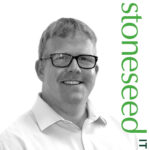 As the New Year started I wrote a handful of blogs about challenges faced by Project Managers and how we are better equipped than ever to face them now.
However, after I asked, "How many PMs work in a tangibly different way in the New Year to how they did in the last? In my CIO.com blog 'The Project Manager roadmap for 2016', a worrying thought struck me…
An IT project usually makes a difference to a business or an organisation by introducing something new.
Now that 'something new' could be transformational and strategic in nature or it could be something almost invisible to the casual observer but – whatever the size of change and the scope of the project – something changes. Otherwise, what's the point, right?
Right.
This is why I've always thought of Project Managers as innovators. You are a pioneer who changes the trajectory of a business, whether by a little or a lot, projecting it on toward a better, more successful strategic outcome.
Here's my worry.
Quite often, the way we manage these innovations is based on outmoded project management paradigms, methodologies and knowledge. We are so caught up delivering these innovative projects that sometimes we forget to innovate ourselves.
We're not lazy – we're busy.
And that's OK, I suppose, I mean as long as you are delivering good results. However, could you be getting great results with a new MO? Can we innovate while innovating?
I think we can … in an age where just about every aspect of the Project Management process is available as a Service … innovation is literally at your fingertips.
And I think we must … for the following seven reasons.
1 – I think that 2016 is going to be a more challenging year for businesses than any of us thought, tumbling oil prices and see-saw financial markets are symptoms of instability, the Governor of the Bank of England, Mark Carney ruling out an immediate rise in UK interest rates is the latest economic litmus test to point to a weakening outlook.
From a Project Management perspective though this should not be seen as doom and gloom but as a great opportunity to increase your profile within your organisation. You'll do this by further aligning IT Projects with business strategy and delivering them in increasingly efficient and innovative ways.
2 – Millennials and Generation Z are going to be the biggest consumers in most markets in the next 5 to 10 years. Will traditional thinking and project management methodologies be enough to reach them?
Not just from a customer perspective either. You want to attract the best talent and if you get a reputation for having a stale, stuffy working environment that may be harder to do.
For instance, one management motivational speaker I saw recently believes that face to face meetings will be as archaic as fax machines within the next decade – How much of your Project Management time is currently conducted in this way? Could you be more efficient working remotely whilst still retaining control and visibility, for example?
3 – To Survive. Consider this. Pick a year and Google the Fortune 500 list from that year. Then do the same for just ten years before and compare the names on the list. I just did it for 2010 and at first glance, it looks like at least two out of five companies at the top of the list in 2000 were missing just a decade later.
The ones that have survived are the ones that reacted to new players entering their market with innovative thinking.
4 – To Thrive. In his blog "12 Amazing Facts Everyone Should Know About The Internet of Things" Bernard Marr reflects on how in 2012 just 10% percent of cars were connected to the Internet. He writes, "It's estimated that 90% will be" by 2020.
Innovation is radically changing the way everyone interacts with IT and at a pace that is faster each year – you will have to innovate just to keep up with your competition but extra markets will open up to those who have to stomach to really push innovation. In such a culture, shouldn't your approach to IT Project Management be just as innovative?
5 – Leaders like Steve Jobs, Jeff Bezos, Bill Gates and Larry Page all had entrepreneurship and innovation hard-wired into their DNA. They never let their teams rest on their laurels or their company culture become too safe after huge success. Rather than become increasingly cautious and reserved in their thinking they continued to push innovation and as result Apple, Amazon, Microsoft and Google aren't doing half bad.
However successful you are don't fall victim to an "if it ain't broke, don't fix it" mentality. Don't get too comfortable.
7 – Finally – It's More Fun.
Innovation has been proven to inspire employees. You know it yourself, when you're working on something exciting and new you are filled with a fresh and natural passion and purpose that often just isn't there when you are working on the mundane day to day workload. What if you were to approach the 'workaday' stuff with an innovative mind-set? The potential is huge!
In conclusion, innovation doesn't have to change the world. That small process or project delivery innovation that has been rattling around in your head for ages may provide the incremental impetus for growth that keeps your company in the game or even captures new market share.
There's a quote often attributed to Albert Einstein (he probably never said it – Mark Twain and Benjamin Franklin also get credited with it). Anyway, whoever said it – it goes along the lines of "the definition of insanity is doing something over and over again and expecting a different result."
As innovation drives IT in 2016, I think that insanity is now doing something over and over and expecting to get even the same result.
 Find out more about Project Management as a Service from Stoneseed