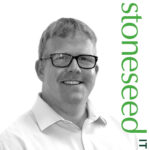 I'm often parachuted into organisations to consult with or coach project managers and leaders who have become lost. It could be that a project has blown off course from its business aligned goals, it could be running late or over budget, perhaps key project talent keeps leaving or in some cases the whole project may be about to sink into a quagmire of utter failure …
… and they just don't know why.
I'm also often struck by how the answer was sitting on their desk the whole time.
Sure, sometimes the answers are hard to find and together we have some really hard work to do, but more often the answers are not just readily available they're actually staring the Project Manager in the face. Often the answers to a Project's apparent failure are lying unread, being used as a coaster for a PM's latte.
Of course, I'm talking about the data, the numbers, the black and white measurables that just haven't been analysed. Those measurables vary from project to project but they ALL need to be studied through the lifecycle of a project.
"If you can measure it – you can manage it." You will have come across a variation of the maxim. Thing is, across all areas of your business from your supply chain management to your data centre and IT estate management, this old business adage rings truer now than ever – and especially in Project Management – where projects are creating loads of really useful key data.
Identify your project's key variables and measurables and study them! So often, Project Managers and CIO's get caught up extinguishing daily "fires" or in planning IT for the future, that they forget to simply crunch the numbers under their noses and make use of existing relevant data. It's big mistake.
OK, so that's how reading your Project data can help steer out of a negative situation, but what about some upfront positive gains you'll get right out of the box? Three Instant Wins from Project Data Analysis
1 – Apply gap analysis between the business objective of your project and your current IT capability to support that objective and you'll align infrastructure and service capability to your business requirement.
2 – Scrutinise your data to ensure that you have robust governance throughout the project lifecycle to ensure that vendors deliver a fit-for-purpose solution in a timely and cost-effective manner.
3 – Studying the data allows you to realise maximum value from existing and future technology choices, including Cloud, IaaS, Managed Services, Networking, End User Computing, Telephony and Network architecture.
And of course, there are IT Strategy Advisors, Big Data analysts and Project Management Service solutions available to help you get the most from all these and more.
In fact there are so many benefits to be gained from regularly running an eye across the data generated by your project – it makes you wonder why it doesn't happen as a matter of routine.
Well, one of the reasons that those numbers don't get crunched is that they're rather unwieldy. Yes, projects generate a lot of data but like maintaining a beautiful garden a lot of it can be regularly pruned, cut back and dumped at the tip.
Many of the organisations I work with store their project data raw, they hoard all of it thinking it might be needed down the line. There are strong arguments for downsizing the amount of big data that your operation accumulates. One project I worked with had generated a warehouse full of data on packet latency across its network. Now packet delay variation (PDV) is an important factor in assessing network performance and quality of service but in the context of this project's failures it was a red herring and yet expensive talent was engaged analysing ALL the data including network jitter. Sometimes it takes an outsider to spot that you're paddling like mad in the wrong ocean and steer a new course.
I suppose what I'm recommending is that defining governance guidelines should be an upfront housekeeping task in every big data project and that there's no shame in buying in help.
You can learn a lot from a few key bits of data and make adjustments accordingly and quickly. Data analytics allow Project Managers and indeed all stakeholders to harvest even more project information to be used in actionable business decisions.
I believe in numbers! Study them. Your project deserves the best possible outcomes. You'll find all your answers in the numbers.