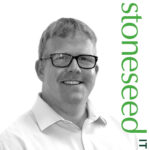 It's a statistic that I've meditated on quite a lot since I first read it back in December. I've been looking for a solution, an oasis of calm for almost seven out ten bosses, something that they could do to avoid all the worry of their PMs defecting to other opportunities. After much consideration, I've come up with a plan.
Don't worry!
OK. Not much of a plan in itself but as the title of this blog states "Retaining Project Managers Is Hard – Be Smart Retain Project Management Capability Instead." Create stable PM capability within your operation and not only will you find the secret to a good night's sleep, you will also find a way to not sweat over key talent going AWOL.
Find out how before the end, first though, let's weigh up the reasons why your star player may want to leave you.
Let's start with some external influences and pressures.
i) They talk! The PM community is like a village, a village where everyone talks and knows each other's business. If your PM is connected on LinkedIn to someone who has left their old position and is currently relishing a new opportunity then it's human nature for your PM to start wondering if the grass is greener elsewhere.
ii) The market is really working for PM talent right now. Since the recession some positions are offering more attractive remuneration packages. You should be careful that your mindset is not still locked in austerity mode. Talented PMs who have sailed PMOs through shallow waters of shoestring budgets are now having their heads turned by agile players with a bit more money to play with.
iii) Home/life pressures. One PM friend just gave notice on a "dream job" because he was tired of the 90-minute daily commute. They were sensible enough to come up with a compromise solution but should beware that a capability gap doesn't open up as the rest of the PMO adjusts to the new routine.
Now let's factor in a few internal factors that can influence key staff to move.
i) Do you have a glass ceiling? Good PM talent are naturally ambitious. They want to proceed up the career ladder and they will lean it up against some else's wall if you don't have opportunities for promotion.
ii) Did you change? Often PM talent cite "it's not what I signed up for" as a reason for moving on. Changes in strategy, line management structures, company ownership – they can all have a dramatic effect on PM performance.
iii) The stretch factor. I've known PM talent to move on because they aren't stretched enough by their current role (and conversely but less commonly because they feel that too much is being asked of them). The project load of your PM should match their experience in terms of volume but also scope. Who wants to be bored at work?
These are just six pressures that could influence a Project Manager to move on – I bet you could easily add lots more from letters of resignation that you've had to consider.
Now – you could bend over backwards to keep your talent on board.
Pay them loads, give them exactly what they want, promote them, train them, stretch them – and they might still leave.
Better still is to seek to retain their capabilities, and yes, this may mean making individuals feel special and appreciated so that they keep their talents with you BUT Think beyond the individual and seek to retain their capability – what they do, how they do it, what they offer to you. Achieve this and your PMO will realise stability way beyond simple retention of certain staff members. Capacity management, resource planning and buying in elements of Project Management as a Service when you need them can all bring spectacular results.
Indeed, it's worth taking advantage of a PM advisory service even when you believe your PMO to be running at full efficiency, often a fresh pair of eyes from outside your organisation can see where your project team is lacking (or could be potentially in the future) and advise on how best to bolster it.
Some key Project Managers are worth trying to hang on to and you should try, but if they want to leave – they are going to leave.
One exec I know has the motto, "If you can't keep 'em – clone 'em". I like that. I think she means that it is your responsibility NOW to ensure that if they do take their talent – they don't take your PMO's capability with it.
You can retain capability.
Contact us to learn more about how Stoneseed's Enterprise PMO Assessment can improve you improve your project performance.
Sources
http://www.esi-intl.co.uk/resource_centre/white_papers/talent_survey_2014.asp