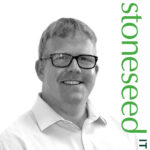 Few things kill a project quicker than ineffective or over complicated communication.
At the heart of it, when you communicate – what's important? Have you ever really thought about it?
Actually, in the interests of clarity – take my question literally. Focus on the heart of the word 'communicate' … have 'u n i' started to leap off the screen at you yet?
When you communicate all that matters is…   U 'n' I.
You must understand what I'm communicating or vice versa.
It's that simple.
And yet, how many of these have YOU experienced?
Project Managers that send emails full of conundrums and riddles – who has time to try to read between the lines and second guess what a message might mean. Say it clearly!
Projects are given clever names but no-one working on them knows what their mission is. 'SOUP' is a really catchy acronym but even the title "Systems & Operations Upgrade Project" tells you very little? What do you think this project's goal was? It's too vague! It doesn't tell anyone that at the end of the project all the organisation's PCs will be running Windows 10, not XP! That was its aim!
A level of knowledge is assumed that is above that of the intended audience or language that was used when a Project was conceived and developed is used to communicate it to end users. The guy punching in the data on the Customer Services desk doesn't care about 'cost savings' or 'strategic value' he cares about what the new system will mean for him and his eight-hour day.
Emails that are full of fillers … 'basically', 'literally', 'if you like' or superfluous adjectives that add nothing.
At the other end of the scale, some communications are so insipid that the message is lost. When SOUP set about upgrading from XP to 10 the business case was made at board level (security, support, etc.) but not to end users who didn't engage with what they saw as a change for change's sake or millennium bug style hysterics.
I've also seen communications from Project Managers that repeat the same point, over and over, in different ways – clear statements only need to be made once.
Bad grammar and spelling lose credibility. You're busy. You type fast. Probably fire up spell check. Then hit send. Spell check won't catch it all. I got an email like this just today. A potential vendor had enjoyed our "telephone conservation". What was worse was that the message was clearly some kind of mail merge because it started "Hi David" but in the body, I was referred to as [client name]. Personal! Wonder how many other great "conservations" he'd had and how many he converts into business!
There are lots of other examples – but you get the point.
And that is the point, there's no need for me to list more because you have got it, right?
At the end of the day, basically, when all's said and done, overly complex, clever or vague communication is literally, a project killer. I mean, it will literally kill your project. Your project will be as dead a Raphus Cucullatus. I'm being facetious.
The good news is that there are three magic bullets to the endless list of complex communication project killers.
1 – Keep It Simple Stupid or KISS. Edit your communication until all that's left is your message.
2 – The 7 Cs of communication. Have you heard this? A principle first launched in 1952 by Cutlip and Center in Effective Public Relations. Effective communication needs…
Completeness and cooperation
Conciseness
Consideration
Concreteness
Courtesy
Clearness
Correctness
Finally, and I think most importantly…
3 – Focus on the U 'n' I at the heart of your communication. You understanding what I'm telling you.
There's only ever two people in any communication, even a round robin email to an entire workforce boils down to a one to one relationship between the writer and the reader.
Approach all your communications from this point of view and you can't go wrong!
Contact us to learn more about how Stoneseed's Project Management as a Service can give you access to project management staff, resources and tools at a flexible and predictable cost via a fully structured managed service.  Find out more about Project Management as a Service from Stoneseed
Further recommended reading:
Common Sense: A 'New' Project Management Method BY Colin Ellis
Sources:
wikipedia.org: Effective Public Relations 
wikipedia.org: KISSprinciple