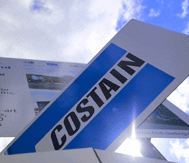 Costain's group training and talent manager said he was significantly impressed with the impact <a href="http://www.apm.org.uk/APM PMQ" target="_self">APM PMQ has had on their business. Jeremy Galpin was responding to the results produced by an online survey of those employees who have been through Costain's Project Management Academy (PMA).
The Association for Project Management's (APM) flag-ship qualification, which is a part of the PMA's learning and development, is also advocated by all those who took part in the survey, with 100 per cent recommending APM PMQ to other project management professionals.
These results were part of an assessment to determine the impact APM PMQ has had on each of Costain's 10 key behavioural competencies.
Jeremy, who leads the 15-strong talent and training function in Costain, discovered that in order to monitor the success of the APM PMQ he would need to dig much deeper than simply looking at the pass rate. "It's sometimes difficult to monitor how knowledge is transferred into behaviour and so we decided to take a look at what the delegates thought of the course and how the APM PMQ directly impacted on their delivery," he says.
"We asked them to rate what impact the APM PMQ qualification had on each of our key areas," Jeremy added. "They had three options: no impact; some impact or significant impact. I was blown away with the results."
Customers value APM PMQ
Eighty-eight per cent of respondents said that sitting the APM PMQ qualification had some or significant impact on their customer focus. Ninety per cent said that it had some or a significant impact on their leadership skills and 100 per cent said that it has some or a significant impact on their project management knowledge.
Sixty per cent of delegates said that they agreed or strongly agreed that their customer values their APM PMQ qualification.
Other standout results included 78 per cent saying that the APM PMQ had enhanced their understanding of the customer's requirements, while 81 per cent said it had enhanced their confidence in their project management ability.
This is further endorsement for the qualification following Heathrow stating that they wanted 100 per cent of their project managers to hold APM PMQ, while independent research has shown that it can lead to practitioners earning up to £10,000 more per year.
Excellence in project management
Costain chief executive Andrew Wyllie concludes: "Excellence in project management is key to the future success of Costain. It is imperative that we have a leading team of fully skilled, highly motivated project managers. The PMA has a key part to play in meeting this objective."
The original objective of the PMA was to "address the people element of project management" and to build a model of project management excellence, benchmarked against world-class standards.
With the company also sponsoring 25 practitioners in attaining the APM Registered Project Professional (RPP) standard in 2012, and developing its current RPP members as mentors to provide support, it's clear that Costain is working hard to embed success into its culture.
The company, which employs approximately 3,500 people in the UK, has around 200 project managers on its books, all of which have been offered the opportunity to go thorough Costain's Project Management Academy. Supported by the sector skills council for construction, Construction Skills, the PMA offers structured progression and development mapped to individual candidates' level of responsibility, from new entrants to project directors.
Since launching the Costain PMA three years ago, 56 delegates have completed the APM PMQ qualification, and a further 30 will sit it this year.
APM PMQ is part of the APM's suite of qualifications providing support for professionals throughout their career. Accredited at IPMA Level D and SCQF Level 7, APM PMQ allows candidates to demonstrate knowledge of all elements of project management. Candidates will be able to demonstrate an understanding of how these elements interact and how their project fits into their strategic and commercial environment.
APM has developed a <a href="http://www.apm.org.uk/APM PMQ2″ target="_self">route to APM PMQ which recognises prior learning from the PRINCE2 Practitioner qualification. Through a shorter training course and exam this specifically designed route offers the most effective way of enhancing the professional status of PRINCE2 Practitioners.
Watch APM PMQ – The Professionals' Perspective and hear what your peers have to say about the qualification.
This article is based on the 'Assessing success' feature that first appeared in the October issue of Project magazine. APM members can read all feature articles from Project magazine over recent years by accessing the Project magazine archive.
Non-members can access the Project magazine archive by subscribing to the UK's best-read project management magazine for as little as £55 per year (10 copies), APM members automatically receive the magazine as part of their membership.