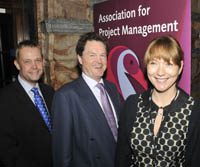 The Association for Project Management (APM) officially launched a new Higher Apprenticeship in Project Management at its annual APM Conference on Wednesday, June 27.
APM worked in conjunction with Skills CFA to develop the Higher Apprenticeship, which is equivalent to the first year of a degree course.
It has been created in conjunction with employers and training providers, with more than 80 organisations being actively involved in the consultation and design to ensure the qualification reflects current demand in the market.
During the launch it was announced that the Level 4 Diploma in Project Management, which forms part of the Higher Apprenticeship, had officially received accreditation from the regulatory body of qualifications and examinations Ofqual.
Made up from a combination of technical and competency based units, the Level 4 Diploma in Project Management requirement is 120 credits at Level 4 on the QCF (Qualifications and Credit Framework), which would comprise 50 credits for successful completion of all of the mandatory units, and 70 credits for successful completion of a selection from the optional units.
The three mandatory units are; Principles of project management (30 credits); Project stakeholder management (10 credits); and Project communications (10 credits).
Those taking part will make up their remaining credits by taking seven or more of the other optional units which are Business case, project structure and progress monitoring; Managing project scope; Managing project schedules; Managing project finances; Managing project risks
Managing project quality; Managing project resources; Managing project contracts; Provide leadership and direction for own area of responsibility; or Plan, allocate and monitor work in own area of responsibility.
Gill Hancock, product development manager at APM, said: "It's very different from other qualifications offered by APM, as it is delivered over a period of time and is likely to take two years to complete.
"When participants complete the qualification, they will have the technical knowledge required to manage projects in unfamiliar environments as well as practical experience of having managed projects in the environments where they have trained."
John Hayes, minister of State for Further Education, Skills and Lifelong Learning at the National Apprenticeship Service (NAS), said: "I'm determined to work with employers to break down barriers between higher learning and the world of work. By creating new higher apprenticeship opportunities for young people to develop project management skills up to degree equivalent, we'll build stronger companies and redefine the concept of higher education."
At the launch, APM chief executive Andrew Bragg (pictured centre with James Turner from Skills CFA and Angela Gill, employer account manager from National Apprenticeship Service) said: "Project management is a highly inclusive profession, and APM is proud of its latest collaborative venture which helps professionalise project management yet further by creating new routes into it. These overcome the rigidities associated with some traditional entry routes whilst fully upholding the rigour of their assessment."
Skills CFA chief operating officer James Turner added: "I'm so delighted that the Higher Apprenticeship in Project Management has been launched today. I am confident that this apprenticeship will have a huge impact on aspiring project managers and the businesses that employ them.
"I am extremely grateful to all the employers and stakeholders for their contributions to this particularly important apprenticeship which I am confident will help develop the profession of project management across all business sectors in the UK."
To date, 24 people have been signed up to be the first to undertake the Higher Apprenticeship in Project Management. For more information about the Higher Apprenticeship, please contact APM, alternatively visit the Higher Apprenticeship in Project Management webpage.