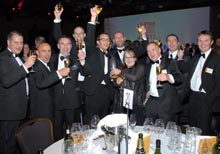 It's now time to enter the APM Project Management Awards 2012 and gain recognition for all your hard work. The APM Awards have never been so simple to enter with new processes and criteria designed to recognise all kinds of projects and programmes in all sectors. The wide range of categories means there are opportunities for all. Your project may have been anything from care in the local community to the most innovative construction projects.
Whatever it is, we want to hear about it.
There is even an extra opportunity to get your hands on the most coveted trophy in the profession with a brand new category for 2012 – the SHELL HSSE (Health, safety, security and environment) Award. The SHELL Award category recognises those that have made an outstanding contribution to embedding a HSSE excellence culture in their organisation or project and welcomes entries from any sector not matter how big or small, commercial or non-commercial. The first winner to walk away with the award will have demonstrated to the judges a true passion for HSSE excellence which translates into continuous improvement in projects.
A total of 12 awards will be handed out at the prestigious ceremony on Thursday 1st November 2012 at the Park Plaza Riverbank hotel in London including Project of the Year and Project Management Company of the Year, as well as awards for Community and Overseas projects. Alongside these will be the Programme of the Year and recognition for the Project Manager and Young Project Manager of the Year. The BNFL Award will also be presented to the project or programme making an outstanding impact as a result of project management.
The awards also recognise academic categories named after esteemed Honorary Fellows, Geoffrey Trimble, Herbert Walton and Brian Willis.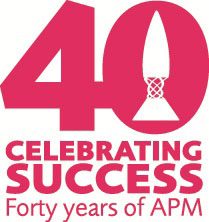 The APM Project Management Awards ceremony will be made even more memorable this year as APM is celebrating its 40th anniversary. APM have recognised past talent ranging from an Afghan National Security Forces transformation program and sustainable fishing in Tanzania to a double community leisure centre build and a young PM responsible for replacing a nuclear facility, all winning awards and reflecting the invaluable contribution project management and project professionals make in all sectors of society. The finalists and winners attract national publicity and a deserved career boost as a result, both at business and at individual level.
Watch a video of last year's APM Award winners.
The awards are once again supported by some of the professions' leading names; QA Aikona, BAE Systems, Program Framework, Project magazine, BNFL and Siemens, plus new sponsor for 2012, Shell.
Following on from the success of introducing a new second stage last year for Programme of the Year and Project Management Company of the Year, Project Manager of the Year and Young Project Manager of the Year will now also be required to present their entry to a panel of judges rather than in written format. This will give candidates the opportunity to provide a deeper insight into their work offering even greater opportunity for all types of programmes and organisations to participate.
Entrants have until the 29th June 2012 to get their entry in for the first stage of judging to be named amongst the best projects, programmes and professionals in the country.
Whatever you're into – don't be left out, enter the awards today.