In the latest Project Management Salary Guide from Arras People, the independent annual report of the project management industry, of over 2000 practitioners polled, it was found that the highest earners* in project management are males in their forties. The highest earners also work for large organisations within the professional services and consultancy fields and are delivering 'business transformation' projects and programmes.
High earners work in positions such as Portfolio, Programme and PMO Management roles and report to the Board of Directors within their businesses. High earners are educated, obtaining at least a Master's degree.
The latest report also shows that high earners are not necessarily undertaking project management qualifications and accreditations. Those high earners who opt for development favour PRINCE2, Managing Successful Programmes(MSP) and APM's APM PFQ and APM PMQ. 30% of high earners do not have any recognised accreditations.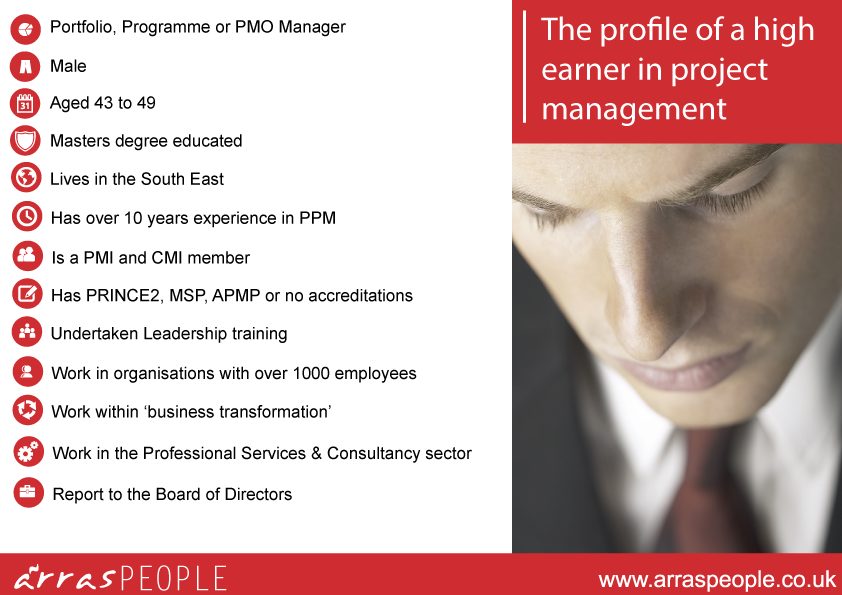 The Project Management Salary Guide covers both permanent employee salaries and contractor day rates and shows how different aspects of a project practitioner's life impact their earning potential some highlights include:
Those leaving education at high school level are less likely to earn in the £60-75K bracket than those taking degrees and vocational training.
Civil engineering and construction Master's degrees bring a higher earning potential, followed by business and IT.
Popular membership choices for higher earners include PMI and the Chartered Institute of Management.
Those earning between £60K – £75K are the least likely to undertake project management training and accreditations.
Lower earners in project management are more likely to work within community and research based projects.
Those working within the £40-50K salary range were less likely to receive a bonus on top of their working wage.
High earners are not managing the largest project budgets. Those working in the £50-70K salary range are more likely to be managing budgets over £10 million.
For further insights the Project Management Salary Guide can be downloaded directly from the website
*High earners are classed as earning over £75,000 per annum