Chairman John Armitt and director of construction Howard Shiplee from the Olympic Delivery Authority, along with former major projects director from the Cabinet Office Robert Assirati, have all been recognised on the New Year Honours list, along with other notable project and programme professionals.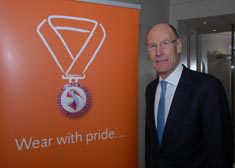 John Armitt CBE (pictured right), who is an Honorary Fellow of the Association for Project Management (APM), received a Knighthood for services to engineering and construction. His achievement comes in the same year as the London 2012 Olympic Games, which has been delivered by the Olympic Delivery Authority (ODA) on time and on budget. The public body was responsible for developing and building the new venues, facilities and infrastructure for the Games and their use after 2012. The APM have been chosen as an official Learning Legacy partner by the ODA.
John has also had a very illustrious and high profile career in the rail industry holding the chief executive role at both Network Rail and Union Railways, the latter being responsible for implementing the Channel Tunnel rail link. John has held the same position at Costain Group and has spent 27 years with John Laing plc, on various projects including the Sizewell B nuclear power station, where he went on to become the chairman of Laing's International and Civil Engineering Divisions.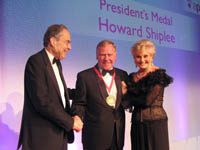 Howard Shiplee, also from the ODA, is made a CBE for services to construction. As director of construction, he developed, led and managed construction contracts, budgets and timelines for all permanent and temporary venues for the Olympics. He was also responsible for helping construction inspections, workmanship standards and best practice on site. Howard also had his achievements recognised at the 2011 APM Awards as he was presented with the prestigious President's Medal (pictured left) by APM president Dr Martin Barnes CBE alongside the evening's host TV presenter Angela Rippon.
APM Honorary Fellow Bob Assirati is appointed a CBE for his work at the Major Projects Authority while being at the Cabinet Office along with his work running the Central Computer and Telecommunications Agency (CCTA). While at CCTA he was responsible for the launch and development of PRINCE2™, Managing Successful Programmes™, and ITIL®. In 2001 CCTA was formally merged into the new Office of Government Commerce, where Bob held a variety of senior management roles and worked with government departments to support the largest and most complex delivery projects.
Faith Wainwright, who is director of APM Corporate Member Arup, was also appointed an MBE for services to the built environment and engineering professions.
Other notable appointments were Roy Crouch, former Whitehall Streetscape project manager, Cabinet Office; Colin Pyrah, special projects director, Paragon Creative; Neil Caves, prison capacity programme manager, Ministry of Justice; Amanda Derrick, programme director, Connect Digitally Programme, Department for Education; Susan Harding, former programme manager, Change Programme, Department for Work and Pensions, all of whom were appointed an OBE.
Catherine Burke, project manager of Cabrini Children's Society; Paul Arnold, senior project manager of the Highways Agency, Department for Transport and John Huddleston, former knowledge leader and project director, AEA Technology all received an MBE.