The APMG have just started to announce the line up for the forthcoming APMG-International Showcase event which takes place on Thursday 28th June in Central London.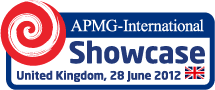 This free event is open to any project management professional interested in the latest best practice in project management. The Showcase brings a mix of event speakers, exhibitions and "Birds of a Feather" sessions. The Birds of a Feather sessions are hosted tables where practitioners can choose to attend. Each table holds around 10 people and each session lasts for 45 minutes. It's a brilliant concept that combines knowledge sharing, networking and lively debate.
Initial birds of a feather sessions have just been announced, for more details and to see how to register free for this event, visit the APMG-International Showcase website
Arras People will also be hosting a Birds of a Feather session on project management careers in the morning session.