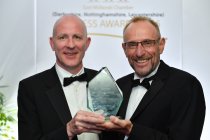 Project Management service providers Stoneseed win two awards, Nottinghamshire Business of the Year and Nottinghamshire Small Business of the Year award.
Stoneseed Ltd, an independent provider of IT Project Management Services is delighted to be awarded the East Midlands Chamber's Nottinghamshire Business of the Year.
The Business of the Year, sponsored by Mazars, rewards all-round excellence in business and focuses on overall financial and business performance, future objectives, growth potential and strong financial performance.
Stoneseed and fellow award winners will go on to represent the county in the British Chambers of Commerce's regional business awards – with the opportunity to go on to represent the East Midlands in the national awards in November.
Chamber President Jean Mountain said: "The Chamber's congratulations go to all of this year's winners. We had some really good entries and the judging process was extremely tough, but all of the winning businesses thoroughly deserve their success.
"The standard of competition was extremely high, which clearly shows that despite the surprise of the exit vote at the EU Referendum, we have some real success stories of Nottinghamshire businesses doing well. All of the finalists also deserve recognition for their success.
"Over the past 12 months, businesses in Nottinghamshire have been busy investing, innovating, exporting and growing and these awards are testament to the quality of businesses we have in this city and county."
After receiving the award, Andrew Buxton, Business Development Director, said: "We came up with an idea six years ago which just felt right and it's all come good. Tonight's award is all about the people who deliver the concept, but I feel amazing."
Later he reflected" We're extremely proud to have won this award in recognition of Stoneseed's commitment to providing innovative, market leading IT Project Management services. The award recognises Stoneseed's development of the pioneering Project Management as a Service, which delivers outstanding value and quality for our clients."
Stoneseed's Project Management as a Service (PmaaS) provides subject matter expert Programme and Project Managers, methodologies and toolsets, at a flexible and predictable cost.
Stoneseed offers a complete range of Project Management services, including Programme Management Office (PMO), governance, tools and people to improve organisations delivery capability and performance. Resources include Project Managers, Business Analysts, Programme Managers, PMO Managers and Technical Architects.
The company was one of 11 to scoop an award, as the chamber celebrated the strengths and successes of businesses across Nottingham and Nottinghamshire.