More influential speakers have been added to the line-up at the APM Project Management Conference on Wednesday 27th June 2012. Two senior figures from the banking sector will be speaking alongside the selection of prominent speakers already confirmed by APM.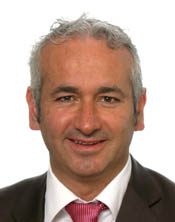 Antonio Nieto-Rodriguez (pictured right), head of transversal portfolio management at BNP Paribas Fortis, and Andrew Holmes, business implementation director with Silicon Valley Bank (SVB), will be taking to the speaker platform at the Art of the Possible themed conference at the new venue of 8 Northumberland Avenue in London.
Antonio deals with the prioritisation, the selection and the execution of all the large strategic projects at BNP Paribas Fortis amounting to 130 approximately. Before that he was head of post merger integration at Fortis Bank, where he was heavily involved in the merger with ABN AMBRO. Previously, he worked for PricewaterhouseCoopers for more than 10 years, were he became the global lead practitioner for the project and portfolio management practice.
With an MBA from London Business School and a university degree on Economics Antonio developed a passion some years ago for teaching and speaking about project and portfolio management and strategy execution. He was annoyed that MBAs didn't offer project management as a course in their curriculum, so he started a crusade to change that. So far he has managed to convince a few deans and currently teaches in the MBAs of Solvay Business School in Belgium, Nyenrode Business School in the Netherlands and Boston University. He has just finalised writing a book – The Focus Organization, which explains why so many companies fail in executing their strategy and why only a few succeed, like Apple.
Joining Antonio in the speaker line-up is Andrew Holmes (pictured left) who is responsible for delivering major programmes of change across Silicon Valley Bank. He recently successfully delivered the UK branch of SVB, one of the most complex programmes in the company's history. Andrew has spent his career in a project and programme environment and has delivered a wide range of projects spanning a range of business sectors and technical disciplines.
Prior to joining SVB, Andrew worked in a consulting capacity for over 15 years during which time he delivered complex and usually multi-territory, global programmes for a wide range of organisations including, BP, UBS, Rolls Royce, AOL, Bank of America, and Tomkins. He has held senior positions in Ernst & Young and PricewaterhouseCoopers. Andrew is also an active author having written and published 18 books across a breadth of business topics and is currently working on Blowback in Decision Making.
Antonio and Andrew will be joining an already impressive speaker line-up including Dr. Ed Hoffman, director of the NASA Academy; Lord Andrew Mawson OBE; Ailie MacAdam, project director for Crossrail; Simon Wright, director of venues & infrastructure at the Olympic Delivery Authority and Mark Butler, programme manager at Virgin Galactic plus many more. With more speakers still to be announced, the APM Conference is a day not to be missed. See full list of speakers.
The event is open to all with APM members receiving £105 off the full delegate rate. Ensure you don't miss out and book your place today.
 Delegate rates:
| | |
| --- | --- |
| APM members | £365 per person* |
| APM non members      | £470 per person* |
If you would like to make a corporate or group booking, please contact Vicki Orbell on: 01908 398380. Alternatively please contact the APM membership development team on: 01844 271 682.
*All prices are exclusive of VAT.