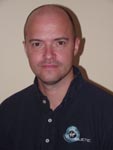 APM are delighted to announce that Mark Butler (pictured right), programme manager at Virgin Galactic will be joining this year's fantastic speaker line up at the APM Project Management Conference. 
Now is the best time to make sure you hear how Virgin are creating the first intergalactic holidays. The early bird rate ends in just 3 days – don't miss out on the chance to save up to £178.

By late 2013, the first space tourists will board the spacecraft and make a sub-orbital journey that will include a period of weightlessness during which passengers can float freely around the cabin. Mark is responsible for developing and delivering the facilities at Virgin Galactic's new home at the Virgin Galactic Gateway to in New Mexico: the world's first commercial spaceport.
Other confirmed speakers include:
Dr Ed Hoffman, Director of the NASA Academy

Richard Noble OBE, Project Director, BLOODHOUND project

Simon Wright, Director of Venues & Infrastructure at the Olympic Delivery Authority

Caroline Blackman, Head of Organisation Development at CLM – Olympic delivery partner

More influential speakers to be announced soon.
Early bird rates for the APM Conference 2012 are now only available until Friday 20th April 2012. Take this opportunity to save up to £178*
There are early bird discount rates for both APM members and non members, so everyone has the opportunity to see the best speakers from the profession. Book your place today.