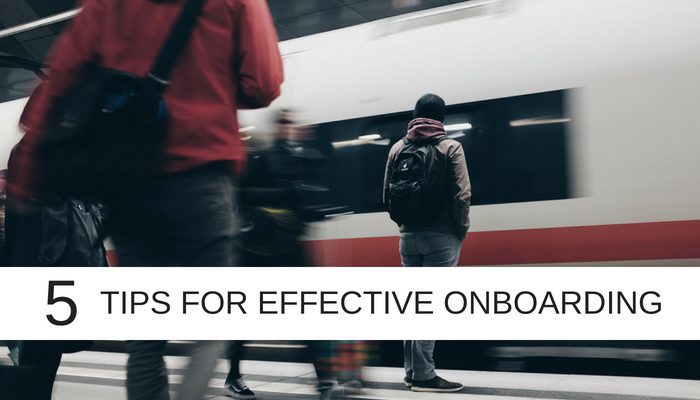 A fresh perspective, different experiences and a whole new set of skills to learn from. When a new Project Manager joins there is a tangible frisson of excitement at the new opportunities for your Project Management Office or team. There are also considerable challenges, especially around onboarding.
More and more of our clients are saying this is their biggest pain point. So how can you avoid having to fit a round peg in a square hole?
The time between hiring and getting talent up to speed can make all the difference. In IT Project Management, it's not just where the loos and the coffee machine are, for a hire to be considered effective you need them to hit the ground as close to running as possible. Therefore, your onboarding process, how you embed them into your organisation, has to be given some serious attention.
Many organisations do this really well. One client has a great approach to onboarding detailing processes and preferred methodologies, how projects get green-lighted and who initiates them, how resources are allocated, risks are managed, budgets are planned, costs are controlled and tasks are scheduled. They have fabulous flexibility too, after all, onboarding a Project Manager with the ink still drying on their Prince2 certificate is a different prospect to onboarding a new colleague with twenty years' experience under their belt.
This client's approach is an "A Game" textbook example of how to do it but even they list onboarding as a frequent issue, especially when bringing in contractors who walk in "cold".
Here's 5 Onboarding Tips To … er … get on board with. #SorryNotSorry
1 – Consider PMaaS
With the right Project Management as a Service partner you will get a better fit because, if they're worth working with, they will have got to know you, your processes, the methodologies you use and MOST importantly … your culture. Cultural alignment is crucial. Matching character, skills and personality of the 'resource' with your organisation could be the secret to more successful onboarding.
You can't guarantee project outcomes if your cultural compass doesn't point in the same direction as your talent's. For instance, if they are hard-wired to brush issues under the carpet and you have a culture of transparency or if you work late nights and long weekends and they want a nine to five, there will come a point where the friction between these opposites causes you some pain.
That's not to say that talent can't adapt to fit your culture – it's all about managing expectations from the outset.
Your Project Management as a Service partner can help you achieve this, for instance, we brief talent during our induction process and focus on understanding the customer's needs and culture during the project workshopping process at the start of any relationship with a new client.
2 – Make Culture Part of The Onboarding Process
Methodologies and processes, risk management, budgeting, cost control .. all of these matter to effective onboarding but they are all administrative functions. A lot of IT Project success comes from the heart! When IT Project talent is really bought into your organisational values they operate in a more visceral, intuitive way and successful outcomes appear more effortless.
One of the biggest challenges is that many companies and PMOs haven't identified what their culture is, so they don't know how to portray it to others.
Get to know your culture so that you can effectively communicate it to new talent. The earlier you start the better, working with a recruitment partner to access talent that is culturally aligned with your values makes for a smoother onboarding experience.
3 – "Stay Beginners"
Steve Jobs used to have a talent for seeing products through the eyes of a new customer, he called it "staying beginners". Constantly looking at products as if for the first time gave him an insight he could leverage. It's how Apple decided to make iPods that were ready charged out of the box, an industry standard for gadgets now but a concept that didn't exist with tech previously.
When onboarding IT Project Management talent "staying beginners" could mean avoiding project specific jargon. You remember starting somewhere new … things move so fast … the last thing you need is to have to translate communications into a common language. Make it a habit to explain acronyms that are second nature to you. Project-specific language can be really confusing for a new starter and every time that they have to stop and ask what something means causes a delay and makes them feel like an outsider.
Seeing the onboarding process through the eyes of the new person dramatically speeds up integration.
4 – Take A Broader View of What You Can Share with New Talent
After canvassing the opinion of talent about onboarding pain points, the most common complaint is that they don't have access to all of the things they need to make effective project decisions.
Most companies have taken a view on new starters, especially freelance contractors, and what they will give them access to and what they won't … CMS, access to team members' calendars, operational information, tools like access to conferencing services… and so on.
The most common response from organisations about why they restrict contractors access to certain project crucial tools is trust! It's not that they distrust the talent per se – they're trusting them with delivery of the IT Project – it's just that a lot of information is sensitive. Invoice management and financial information, resources that are shared across the project portfolio, passwords, sensitive contract details are all things that freelancers have told me they have restricted access to but which can restrict your talent's effectiveness.
The problem is that even great Project Managers cannot breathe in an information vacuum and many projects suffocate as a result. To avoid this try to take a broader view of what you allow them access to – to be able to do this you have to trust your talent. Perhaps trying the PMaaS route suggested earlier for "non-staff" freelance talent and using a recruitment partner to access talent in a culturally aligned manner will give you a cushion of trust between you and those you rely on to deliver your project.
5 – Handover Is Key – Why Why's the Wisest Word
If the departing PM is still with you, make sure that he or she spends an adequate amount of time handing over the reins of the project.
Now … sure … share what has been achieved already, where is the project on its timeline. What issues and risks remain unresolved … How are the numbers stacking up financially – is the project on budget? This all matters …
BUT …
I think that when handing over an IT Project, more important than the "hows", "wheres" and "whats" are the "WHYs". Why has the budget been set at that level, why is delivery needed on the date agreed, why were certain decisions made?
Understanding the "why" behind the IT Projects helps really embed new talent. Project Managers are, by nature, instinctive –  when they understand the DNA of the project they will find their way and make intelligent outcome-based decisions much faster than if they were given just its nuts and bolts history.
Onboarding new staff is a vital part of the success of a PMO or IT Project team of any form, yet it is a key ingredient of successful projects that many Project Managers and CIOs fail to notice or copy. Make sure that new starters are not only welcomed but also supported and encouraged during their initial few months with you. We were all new starters once, remember what it felt like and as Steve Jobs said – "stay beginners".
Find out more about Project Management as a Service from Stoneseed