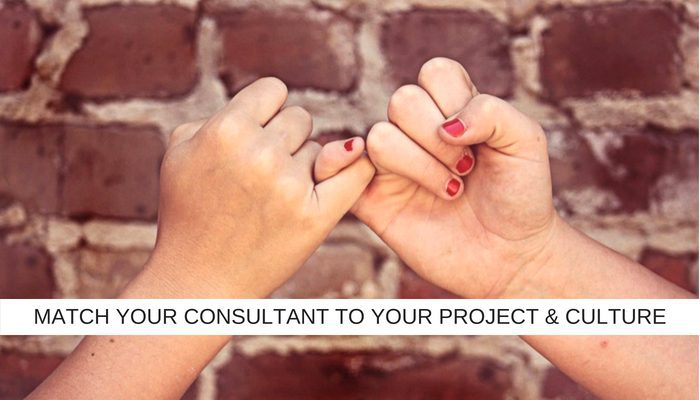 I just spent some time with an exasperated CIO. Frustrated by IT Projects that were failing time after time – completing late and over budget – despite his Project Management Office being staffed by experienced Project Managers each with an impressive track record of success.
"Could buying in Project Management As A Service be an alternative solution?"
"Of course," I remember saying, "but let's first drill down and work out what's going on here!"
I looked at his project portfolio and the staff assigned to each task. Over and over a picture of mismatched talent began to emerge. They were working to a system that practically assigned project responsibility to whoever was free next, regardless of suitability and compatibility.
It was an object lesson in why giving the right manager the right project to manage is key to successful outcomes.
Of course, with an internal PMO you are rather fishing in the same small pond, but it is amazing how many project management contracts are awarded to contractors just because an organisation has used them before. IT projects differ in scale and complexity and your "go to guy" delivering last time is no guarantee of success on future projects.
Beyond this though, I have said for years that cultural alignment matters hugely.
If your organisation has core values of transparency and accountability you don't want to be working with a Project Management partner that buries bad news or hides mistakes – their smoke and mirrors approach just won't fit with your open approach, eventually key milestones and targets will be missed, projects will fail.
For example, my company Stoneseed has a people based ethos – we seek first to understand your business case and specific requirements and then we recruit people to match those needs and individual projects. The goal is two cultures dovetailing beautifully creating results beyond expectation.
Increasingly, cultural alignment of PM talent and client organisations is going to become as important as getting the right manager to do the right job.
BUT … You don't even have to like your contractor!!
I'm aware of at least one relationship between a fairly brusque CIO and an equally brash contractor that seems to thrive in spite of itself. I assumed once that because of the high success rate of projects managed by the contractor he must be held in high esteem by the CIO but was amazed to find that the two actually hated each other, I mean they literally couldn't stand one another. They did, however, have mutual respect – in a business sense at least – and the fact that they were both as rude as each other seemed to be the glue that held the relationship together. There was total (often vociferous) transparency – these guys told it as it was … each giving as good as he got from the other. It's an extreme illustration but you cannot argue that the two weren't culturally aligned and they got results.
Another Project Manager gets work by turning it away. Organisations approach and if he does not believe that the aims are achievable or that outcomes would be congruent with his client's business case he declines the offer and gives honest reasons why. Sometimes the client gives the work to someone else and his forecast becomes reality but more often than not the organisation enters into a dialogue where an alternative solution is created. His core values are aligned with organisations that value honesty and calm measured thought over reckless risk taking on an outside chance. Organisations come back time and again.
You see, the same freelance Project Manager can do a remarkable job for one organisation and then, based on glowing references, secure an identical project with another company that fails to deliver spectacularly. Same scale, same scope, same skills, same time frame delivering totally different results. In most cases it's down to a cultural divide between the contractor and the organisation.
Whether you're looking to hire staff to fit within your internal PMO, recruit external PM contractors or seeking to buy in Project Management As A Service (either to sit beside your existing structure or replace it), knowing your organisation's culture and aligning it with that of your prospective Project Manager will increase your chances of success.
Any potential partner worth their salt will have already done their homework on you – and they don't deserve to get your business physically if they don't get your business emotionally.
Find out more about Project Management as a Service from Stoneseed