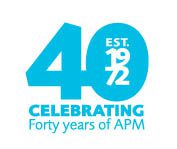 To mark APM's 40th anniversary there will be a series of events and activities throughout 2012 to celebrate reaching such a significant milestone including a special edition of Project magazine and Honorary Fellow announcements. This momentous year will also see a revamp of the APM Conference and Awards as the profession's key events will be held on separate dates for the very first time at newly selected venues.
As part of the festivities APM would also like to celebrate with the entire project and programme management community. Celebrating success in our profession is something we should all be proud of, no matter how big or small a project may be. That is why APM wants to see examples of your projects that you take particular pride in. The photo should look to sum up the project or programme in one image. APM will then collate all the photos that have been submitted and display them as snap shot of what our profession can achieve later on in the year.
Including a photo of your project in the celebrations could not be easier. Simply email it to myproject@apm.org.uk or submit it via Twitter using #myproject
It is going to be a big year for APM. On top of turning the ripe old age of forty APM has been chosen as an official Learning Legacy partner by the Olympic Delivery Authority, the association will develop Higher Apprenticeships in project management in conjunction with CfA and will launch the 6th edition of the APM Body of Knowledge.
The APM has come a long way since that historic meeting on 13th May 1972 in the lobby of the Sheraton Stockholm Hotel. Keep an eye on the APM website for more announcements that will mark the achievements the association has gained in a relatively short period. You can also read more about the history of APM to see exactly how much progress the association has made to date.