The Challenges and Reality of Portfolio Management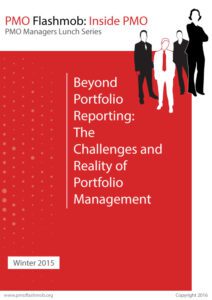 Early December in London's Fleet Street and PMO Flashmob – the PMO networking group – hosted the first 'PMO Managers' Lunch'. These events bring together PMO Managers, from a number of different industries, to talk in-depth about a particular PMO topic. At this lunch, the subject was "Beyond portfolio reporting – the challenges and reality of portfolio management".
As organisations look to improve on the returns from strategy development and increase maturity in programme and project management delivery capability, portfolio management has increasingly taken centre stage as a business function to support that. Portfolio management is seen as the 'glue' or 'bridge' between strategy and strategy execution (delivered by programmes and projects). The PMO or Portfolio Office is the place where portfolio management practices become a reality for an organisation.
Overview
1. Portfolio Management is still not understood well enough within organisations
2. The PMO has to become more business focused – more dynamic, strategic and analytical
3. Theoretical portfolio management guidance accounts for only 30% of what is implemented
4. "Doing the right projects and doing the projects right", the basics of programme and projects still need attention
5. The PMO need skills in relationship management and data analysis – a true combination of hard and soft skills
6. The PMO is both an enabler and a disruptor
7. Portfolio PMO needs a paradigm shift
To download and read the full report, visit the PMO Flashmob website.
PMO Managers:
John McIntyre – Ticketmaster
Chris Walters – Vodafone
Brett Dalby – Met Police
Rachel Cook – Lloyd's of London
Jane Cosgrove – DHL
Lisa Chellar –Equinix
Stuart Collins – BBC
Harri Sharples – Deloitte
Anke Bysouth – CAFOD
Simon Harwood – IFDS
Julie Black – Ofgem
Ken Burrell – Pragmatic PMO