The Association for Project Management have added yet another senior and influential speaker to the APM Conference line up on Wednesday 27th June 2012. Ailie MacAdam is an award-winning project director with experience on mega projects across the globe. She is currently project director for Crossrail, Europe's largest engineering project, an organisation that advocates the APM PMQ qualification.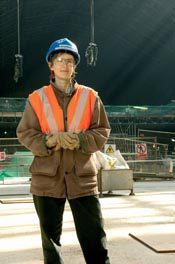 Ailie (pictured right) joined Bechtel, who is overseeing construction of a 21 kilometre tunnel going through the heart of London that will be the centrepiece of Crossrail, as a graduate over 26 years ago and has worked on some of the world's largest infrastructure projects. Her record of achievement includes managing the successful close-out of High Speed 1, also known as the Channel Tunnel Rail Link, which was delivered on time and within budget to wide acclaim. She managed the renovation and extension of St Pancras station in London and was presented to the Queen at its reopening in 2007. She has also worked on the Boston central artery project.
Ailie's unrelenting passion for her job and excellent project management skills have been recognised by the Inspire 2008 award for Inspirational Leader in Engineering. Under her leadership St Pancras International station won the Major Project Award at the British Construction Industry Awards in 2007 and Ailie was part of the team which won the UK Excellence Award for Process Management from the prestigious British Quality Foundation. Her ongoing achievements and commitment has recently led to Ailie being made a senior vice president at Bechtel.
Joining Ailie at the Art of the Possible themed conference will be Sue Manley (pictured left). Sue is a founding director of Placemarque Ltd, an environmental design and communications company. She started her professional career as a traditional architect and now has graduated into wayfinding, which refers to the set of architectural and design elements that aid orientation within the built environment and assists navigation.
Sue's particular expertise lies in formulating development strategies, visitor orientation techniques, wayfinding and information management, and project and design management. Sue has led the extensive new mapping and wayfinding design project for the City of London, and has developed the new wayfinding strategies for Durham and Southport. More recently Sue has been working on a new strategy for signage, public art and digital information in Derby, and is currently leading a new wayfinding project at Sheffield Hallam University.
Ailie and Sue will be joining an already impressive speaker line-up including Dr. Ed Hoffman, director of the NASA Academy; Lord Andrew Mawson OBE; Richard Noble OBE, project director of BLOODHOUND project; Simon Wright, director of venues & infrastructure at the Olympic Delivery Authority and Mark Butler, programme manager at Virgin Galactic plus many more. With more speakers still to be announced, the APM Conference is a day not to be missed.
The event is open to all with APM members receiving £105 off the full delegate rate. Ensure you don't miss out and book your place today.
 Delegate rates:
| | |
| --- | --- |
| APM members | £365 per person* |
| APM non members      | £470 per person* |
 
 
 
If you would like to make a corporate or group booking, please contact Vicki Orbell on: 01908 398380. Alternatively please contact the APM membership development team on: 01844 271 682.
*All prices are exclusive of VAT.