The Association for Project Management is pleased to announce that Lord Andrew Mawson OBE will be taking to the APM Conference platform as the closing speaker on Wednesday 27th June 2012. APM has been known to fill the prestigious slot with the most influential and senior speakers from across the profession including Michel Thiry who spoke last year.
Andrew (pictured right) is a serial social entrepreneur and is best known for his pioneering work at the Bromley-by-Bow Centre in East London where he transformed a dilapidated church building into what today has become a beautiful three acre site. The Bromley-by-Bow Centre has become one of the most innovative integrated regeneration programmes in Britain supporting families, young people and adults of all ages to learn new skills, improve their health and wellbeing, and find employment.
Andrew went on to help found Poplar Harca, one of the first housing companies, and Leaside Regeneration Ltd. Both these organisations work in close partnership with the Bromley-by-Bow Centre to help build strong communities. Andrew, who was made a life Peer in 2007 in recognition for the social impact of his work, has a unique ability to inspire individuals from different professional backgrounds and to encourage them to work with him. He sits as an independent crossbench Peer in the House of Lords and is bestselling author of the book, "The Social Entrepreneur: Making Communities Work".
Over a decade ago Andrew and his partners wrote one of the earliest papers proposing that the Olympics Games were brought to East London. He is today a non-executive director of the Olympic Park Legacy Company. Over the next 25 years this company will plan, develop, and manage the Olympic Park in East London, creating a lasting legacy from the 2012 Games.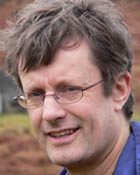 Joining Lord Mawson in the speaker line-up at the new conference venue of 8 Northumberland Avenue in London will be David Boyle (pictured left), who is a fellow at the New Economics Foundation, the pioneering think-tank in London. He has been at the heart of the effort to develop co-production and introduce time banks to Britain as a critical element of public service reform while founding the London Time Bank network and co-founding Time Banking UK. Timebanking is the exchange of services amongst people and organisations were time is the principal currency.
David is the author of a number of books about history, social change and the future as well as co-authoring three key reports for NESTA in 2009/10, which set out co-production as a practical way forward for UK services. Being an authority on numerous social issues David advises politicians on a range of issues including localism and the future of volunteering.
Andrew and David will be joining an impressive speaker line-up including Dr. Ed Hoffman, director of the NASA Academy; Richard Noble OBE, project director of BLOODHOUND project; Simon Wright, director of venues & infrastructure at the Olympic Delivery Authority and Mark Butler, programme manager at Virgin Galactic. With more speakers still to be announced, the APM Conference is a day not to be missed.
The event is open to all with APM members receiving £105 off the full delegate rate. Ensure you don't miss out and book your place at the Art of the Possible themed conference today. 
Delegate rates:
| | |
| --- | --- |
| APM members | £365 per person* |
| APM non members      | £470 per person* |
If you would like to make a corporate or group booking, please contact Vicki Orbell on: 01908 398380. Alternatively please contact the APM membership development team on: 01844 271 682.
*All prices are exclusive of VAT.