New applications from myProteus an extension of ground-breaking self-help online portal for project management skills and tools
LONDON: myProteus, a leading change and project management consultancy, has today announced the launch of two new mobile applications which puts some of the best skills and knowledge on project management truly at people's fingertips.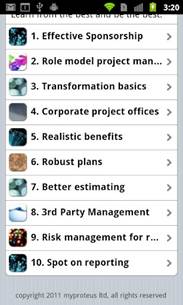 Now available on Android Market and Apple's iTunes App store, the new applications have been developed following an informative survey of leading project managers and sponsors. Two separate applications – for project managers and project sponsors – contain market-leading insights built around the top ten themes identified by those surveyed. Each theme contains the top ten questions considered to be at the forefront of successful project delivery – comprising 200 questions in total.
myProteus has become recognised by many Chief Executives as the leading experts in project and programme management. Their unique offering is focused on delivering sustainable results through internal capability. At the core of the myProteus approach is its ground-breaking online self-help portal which is replete with project management best practice, cutting-edge skills, and diagnostic tools.
Built upon the power of self-learning and customisation, the portal represents one of the most robust resources available for both individuals and organisations on the practice of project management. Today's launch of the new mobile applications even further enhances the availability and accessibly of myProteus's insights and resources in the marketplace.
John Roberts, director of myProteus said:
"In such a volatile economic climate and with ever increasing pressure for organisational change, project management can no longer solely be the domain of management consultants and credentialed project managers. It is a critical skillset required throughout the business world, and of employees in all roles and industries.
"These new myProteus mobile applications take some of the most essential project management skills and insights available through our innovative online self-help portal and literally puts them in the hands of the real implementers of change in today's organisations. Our experience has shown that only by demystifying project management and empowering employees throughout an organisation with the knowledge and skills required to manage projects effectively can sustainable change truly be achieved."
Project Manager Top 10
iTunes
Android Market
Sponsor Top 10
iTunes
Android Market