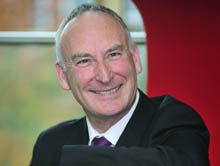 The Association for Project Management (APM) has announced that vice-president and former chairman Tom Taylor is to become its new president.
The announcement was initially made by APM chairman, Mike Nichols at the APM Awards and then formally at the association's Annual General Meeting on Monday. Tom takes over from Dr Martin Barnes CBE who steps down as <a href="http://www.apm.org.uk/APM PMQresidents" target="_self">APM president after nearly 10 years of service in this role.
Formerly chairman of APM's London branch, Tom joined the APM Council in 2003 and became APM chairman from 2004 to 2006 – a period of significant change. He oversaw the appointment of chief executive Andrew Bragg, a full governance review, rebranding and the publication of the APM Body of Knowledge 5th edition. He subsequently oversaw the move of the association to its new premises at Ibis House in Princes Risborough.
He was awarded the President's Medal for his contribution to the association in 2007 and became an Honorary Fellow in 2009, which led to him receiving the Sir Monty Finniston Award for a lifetime of achievement. He became an APM Registered Project Professional in 2011 and is an APM Certificated Project Manager.
Tom is the founder and principal of the project management consultancy dashdot and has over 30 years experience at the front line of project management. He is a popular and engaging trainer, course leader, author and speaker, and has chaired conferences in many parts of the world.
His expertise in project management has been further recognised by his appointment as a Visiting Professor to the School of the Built Environment at the University of Salford.
He jointly founded project management consultancy Buro Four in 1985 and has been involved in a wide range of projects including Royal Academy of Dramatic Art (RADA) – Centenary Project and the National Tennis Centre for the Lawn Tennis Association.
Speaking after the AGM Tom said: "I am excited, enthused and energised by this appointment. This is a great time to be president with so much happening in APM, within project management UK and across the globe. I have been asked to be an ambassador for the profession and a critical friend for the association – it will be a pleasure."
Going into more detail about his role, Tom said: "Particularly I want to find time to expand the opportunities to encourage new and emerging project management talent in all fields, work with the Honorary Fellows and support sustainability initiatives. It's all good stuff."
He thanked Dr Martin Barnes for his presidency during which time the association has grown by nearly 60% and enjoys an unprecedented influence and profile throughout the UK profession and the world.
A full interview with Tom will be featured in the January issue of Project magazine.